The Fictional Café is a growing, changing artist's coffee house. What began as a desire to publish other writers has grown into a place where not only fiction-writers and poets but artists, photographers and yes, even podcasters, are delighted to share their creativity with you, our loyal FC members.
We are also growing and changing  from the inside as we welcome new baristas to help us with the ever-growing number of submissions, as well as introducing us to increasingly wider audiences. That's why it's such a distinct pleasure to introduce Gary Marchesano, as an artist and our newest barista. He's a very thoughtful, discriminating, and cool guy who gets to live in a garden spot in Florida where he can watch Elon Musk's Falcon 9 rocket launches, go fishing not even a mile from his door, create absorbing works of art, and lend his discerning thoughts to evaluating each of our creative submissions.
Welcome, Gary!
Here's a sampling of his art, followed by his bio and an excerpt from his Artist's Statement.
Please click on the images to see a larger version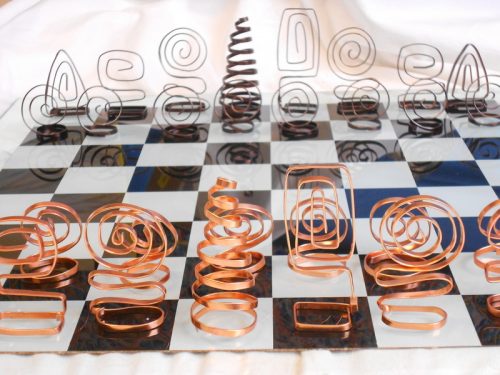 Chess Set 5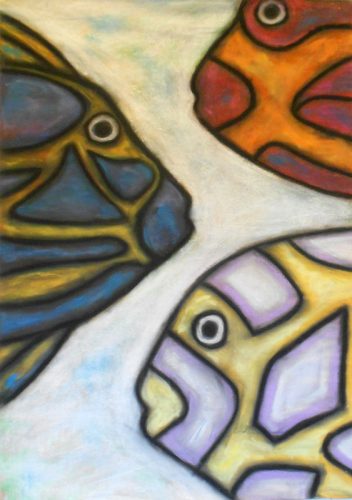 Opposing Viewpoints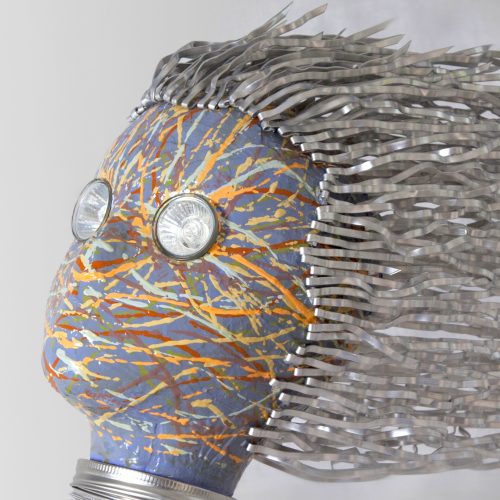 Approaching the Singularity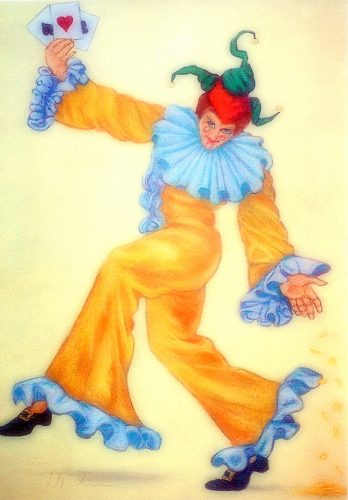 The Joker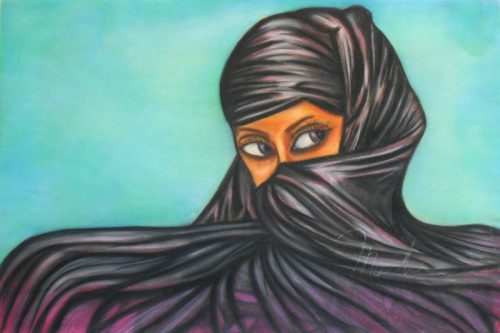 Sascha Has A Thought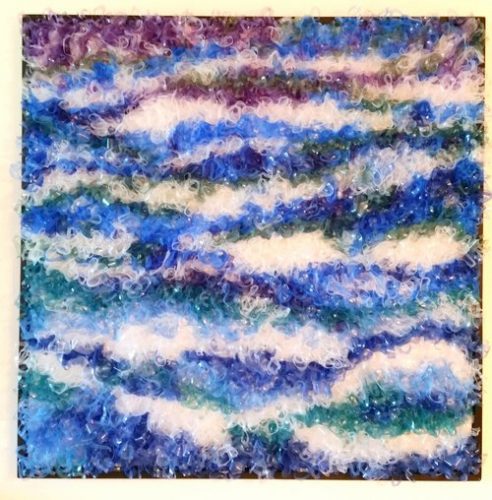 Aqueous
"Aqueous" was created to interpret the rhythm, fluidity and flow of water current. It was fabricated from thousands of recycled plastic soft drink "yokes" that hold the six cans together. Gary dyes the colors then attaches them individually to a backboard into the patterns you see here. This work represents more than 200 hours of work. Below is a detail from "Aqueous" so you can see the individual yokes and how they're colored and assembled. While the photo may appear out of focus, it is not, giving you an idea how complex and intricate the work is and why it takes so long to assemble into a coherent whole.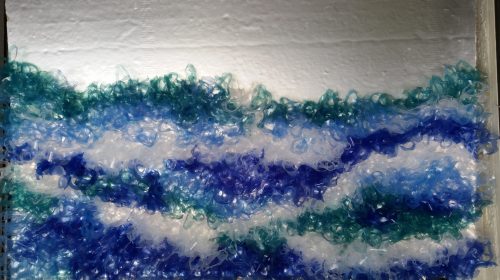 Aqueous Detail
***
Gary Marchesano (pronounced March-es-ah-noh) was born in New York and raised on the west coast of the United Sates, where he found education and inspiration frequenting the galleries and museums of Los Angeles, Carmel, Newport Beach and San Francisco. He matured as an artist in the Northern California / Nevada region of Lake Tahoe, where he studied under internationally acclaimed artists David Foster and Phyllis Schafer.  Gary describes his art this way:
"While bringing an idea to life turns a thought into a reality, giving it life is giving it a heartbeat.
"I endeavor to reach this goal in every project using whatever material and/or technique will best serve the purpose.
"Subsequently, it is important for me to have a big toolbox of materials and techniques to draw from.
"Above all, I strive for freshness, innovation, and novelty by manipulating color, light, and  a variety of materials to fit my own definition of time and space.
"It is sometimes like walking a tightrope stretched over an ocean of uncertainty that is dotted with islands of clarity and purpose."
A former gallery owner and exhibitor at Art Miami, Marchesano currently resides on the Space Coast of Central Florida, where he creates a wide variety of artwork. Learn more about Gary and see more of his art at his website, Double Vision Art.